Covid-19:
Currently the Dictionary staff are mainly working from home, but the drafting and editing of new articles is continuing and GPC Online  is still available. The Dictionary can be contacted but there may be no-one in the office to answer the phone every day.
---
The Dictionary's Centenary:

GPC was established in 1921, and the hard work of gathering evidence began – work done mostly by volunteers. We are celebrating the centenary with a number of virtual events this year.
You can view the illustrated seminar of Mary Williams, one of GPC's Assistant Editors, on the Centre's YouTube channel here.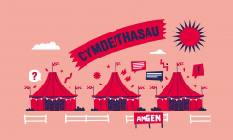 A session will be held at the Eisteddfod AmGen on Wednesday, 4 August at 11:30am. See further details here. A recording will be available after the event.
More events will be held this year, and next year there will be an exhibition at the National Library and a Conference which has been postponed due to the pandemic.
The Friends of the Dictionary: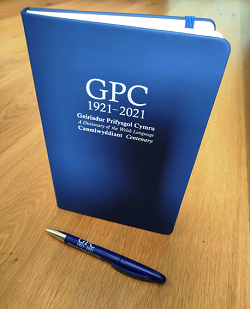 The Friends' meetings have had to be postponed recently, but all Friends are welcome to attend the virtual session at the Eisteddfod AmGen (see above). We have a special offer for all our Friends – including those joining this year: a smart notebook and ballpoint pen to mark GPC's Centenary at the discounted price of only £5 (including UK delivery). More details can be found here.
---
Welcome to Geiriadur Prifysgol Cymru
GPC is the only standard historical dictionary of the Welsh language.
It is broadly comparable in method and scope to the Oxford English Dictionary.
It presents the vocabulary of the Welsh language from the earliest Old Welsh texts, through the abundant literature of the Medieval and Modern periods, to the huge expansion in
vocabulary resulting from the wider use of Welsh in all aspects of life in the last half century.
This vocabulary is defined in Welsh, and English equivalents are also given. Detailed attention is given to variant forms, collocations, and etymology.
The work is based on an ever-expanding collection of over two million citation slips gathered from a range of texts over many years.
Staff are now using the latest technology to gather evidence in digital form and to edit the Dictionary, updating its contents regularly.
In 2014 a free online version of the Dictionary was published: GPC Online, containing all the material in the first and second editions, together with thousands of new words which have been added since then.
Mobile apps for Apple and Android phones were launched in 2016 with Welsh Government funding, which are free and give access to the whole wealth of the Dictionary. The app is now also available on Amazon Fire tablets.
The Dictionary is a research project within the University of Wales Centre for Advanced Welsh and Celtic Studies on the site of the National Library in Aberystwyth and is funded by the Welsh Government and the University of Wales Trinity Saint David.