Android, iOS, and Amazon Fire apps
These apps for Apple and Android phones and tablets (including Amazon Fire) are a convenient way to access the wealth of information contained within Geiriadur Prifysgol Cymru.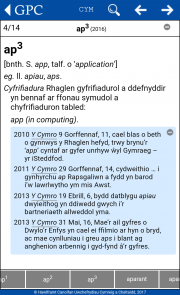 You can retrieve information at any time and wherever you happen to be.
In contrast to GPC Online on a PC or laptop, you can download all the data to your device (via the Settings) for those times when there is no Internet connection or you want to save your mobile data allowance.
It's worth remembering to download the database afresh every six months or so to keep up with the latest additions. To do this, you will have to delete the data (via Settings) and then download the data again.
Developed with the financial assistance of the Welsh Government.
Download:
You can download the app by clicking on the appropriate icon

here or by scanning the QR code with your device:
Short description: Geiriadur Prifysgol Cymru: A Dictionary of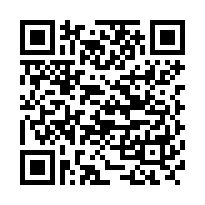 the Welsh Language is the Welsh-language equivalent of the Oxford English Dictionary. Every word is defined in Welsh with English synonyms and illustrative quotations, together with the word's etymology, and grammatical information such as the gender and plurals of nouns.
Features:
Geiriadur Prifysgol Cymru is the largest Welsh dictionary with
– 124,500 headwords- 7,150 variant forms
– 34,400 collocations (phrases)


– 475,000 illustrative quotations with source references
– over 60,000 cross-referencesThe headwords, variant forms, and collocations are searchable by word or phrase. Accents, numerals, and apostrophes are ignored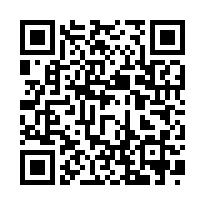 to simplify input –
instead all matches are listed for you to choose from.
Fuzzy searching: If the app fails to find the word you are searching for it will suggest similar words.
The app searches automatically for mutated forms in order to find additional results.
You can use wildcards ('*', '?', '+').
You can search the English synonyms, using the same wildcards.
You can use the app online, with no data downloaded. Alternatively you can download all the data (about 185MB)


via WiFi and use it offline. If you don't have enough room on your device, you can download the data without the quotations (which takes about 132MB).
The app contains two simple word games – an anagram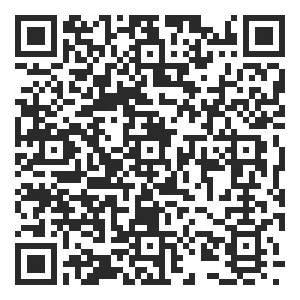 game and a hidden-word game – with clues based on the definitions in the Dictionary. The selection of words can be confined to your recent searches – particularly useful for learners to practice new vocabulary.
There is a 'Help' section to answer frequently asked questions and to supply further information.
Developed with the financial assistance of the Welsh Government.
Support:
For more information and answers to FAQ's please click here or on the App Support link in the menu.