Have you considered using GPC Online or the GPC App (free of charge)?
That will give you access to a dictionary comparable with the Oxford English Dictionary.
GPC is a huge work consisting of more than 4,000 pages, totalling over nine million words, and almost half a million illustrative quotations.
Looking for the meanings and origins of words? The definitions in GPC are given in Welsh followed by English synonyms. It gives dated examples showing how a word was used over the centuries, and indicates where the word came from.
Need to decipher a phrase or expression? Expressions such as 'ar gefn ei geffyl' and common phrases containing the word you are searching for are listed.
Dealing with technical stuff? The dictionary already contains a number of technical terms and this number is increasing all the time as more words are added.
Can't think of the Welsh word? One of the great advantages of the online version is that you can type in an English word and see a list of all the entries which include that word in their definitions.
Unsure how to spell a word? If the word you typed in is not found, you will be offered a list of the closest matches.
Are mutations a problem? You can type any of the mutated forms of a word into the search box and you will be directed to the relevant entry.
GPC is regarded as an authority on spelling, plural forms, gender, etc. All the information in the Dictionary is based on a corpus of actual examples.
Several times a year hundreds of new entries and updated versions of older entries are added to GPC Online and the apps.
Any questions? Please contact us at gpc@geiriadur.ac.uk or via Facebook or Twitter.
Facebook: www.facebook.com/geiriadurGPC
Twitter: @GPCdictionary (in English) or @geiriadur (yn Gymraeg) where you will find the Dictionary's 'Word of the Day' and where you can comment or ask questions.
Teaching resources:
You can download information about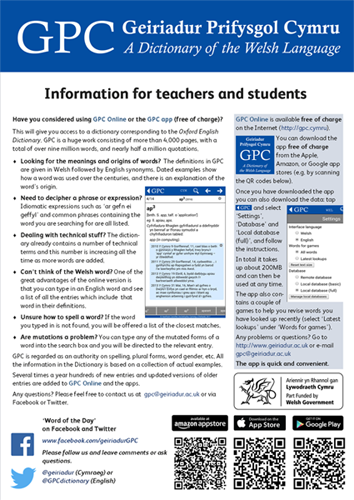 the Dictionary:
Bilingual leaflet for Teachers and Students [PDF]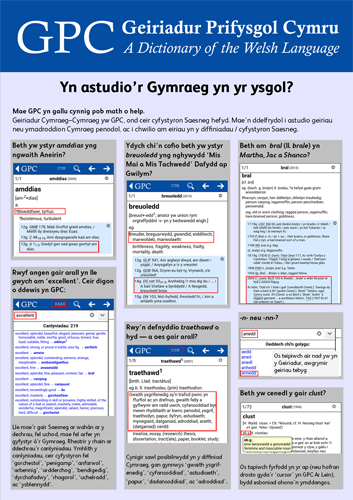 We have prepared a leaflet (in Welsh only) suggesting how you can use the Dictionary when teaching the A-level Welsh curriculum, with examples from the set texts.
GPC a Safon A Cymraeg  [PDF]
We have also prepared two quizzes to help people practice using the Dictionary, a simple bilingual one and a Welsh-only one for more experienced speakers. They are suitable for use in the classroom or as homework.
There are two versions of each quiz, one for pupils with space to write the answers, and one for teachers with the answers:
Please contact us if you have any problems or questions – gpc@geiriadur.ac.uk