19 December 2018
GPC App now available for Amazon Fire tablets
The GPC App is now available in the Amazon Appstore for Amazon Fire tablets. The app is identical to the standard Android app and is used in an identical manner.
To learn more and to download the app, go to Android, iOS, and Amazon Fire apps
10 October 2018
Friends of the Dictionary AGM 2018
On Saturday, 23rd June, the first annual meeting of the Friends of Geiriadur Prifysgol Cymru was held at the Drwm in the National Library of Wales, Aberystwyth, and it was a pleasure to welcome so many Friends to Aberystwyth on such a fine day.
The Friends' President, Myrddin ap Dafydd, spoke first drawing on his experience as founder and owner of Gwasg Carreg Gwalch. He discussed words such as 'monotype', and 'stereotype', and we learned why insurance companies are unwilling to insure printer's thumbs! It was
amusing to hear about the person who, according to a printed report, won a carrot instead of a crown (moron not coron) at the National Eisteddfod – demonstrating how a simple typesetting error can change the whole meaning of an article! This, and other amusing examples recorded by Myrddin, is attributed to the 'Printer's Devil', the creature held responsible by printers everywhere for all such errors.
Dr Elin Jones talked about her upbringing in the Ystrad Mynach area in a household where the Wenhwyseg (dialect of Gwent) was spoken, and of the remains of this dialect that she speaks
today, describing some of its characteristics. In conclusion, she recited some entertaining verses written in the dialect.
'That wild man from the South', namely Iolo Morganwg, was the subject of Professor Geraint H. Jenkins' talk. The two have been close companions for many years, and we were introduced to a self-taught genius who was an unswerving radical, who helped others, and was ahead of his time in calling for the emancipation of women. We look forward to reading Professor Jenkins'
biography of Iolo Morganwg, which promises a detailed picture of a fascinating character who contributed greatly to Welsh culture.
To follow, Andrew Hawke talked about GPC+, the new project to transcribe the Dictionary's
citation slips that will result in the creation of a very useful resource, and showed the audience how to use it. If you would like to try your hand at transcription, go to
www.geiriadur.ac.uk/slipiau
After the talks, everyone was invited to the Centre for a cup of tea and some cake, along with the opportunity to chat, and for some practical direction on using GPC+. Thanks to everyone for their company – it was a very entertaining and enjoyable afternoon.
01 August 2018
National Eisteddfod of Wales, Cardiff 2018
Friends of the Dictionary Meeting
A meeting of the Friends of the Dictionary (but open to all) will be held at the National Eisteddfod on Friday, 10 August 2018, at 12:30pm, at the University of Wales stand (0221-0222, in front of the Pierhead). With addresses from:
the President, Myrddin ap Dafydd
Angharad Fychan who will discuss some of the latest words to be included in the Dictionary
Andrew Hawke who will introduce GPC +, a new crowdsourcing project to transcribe the Dictionary's citation slips – see GPC+.
(This meeting will be held in Welsh.)
05 June 2018
Friends of GPC Meeting
The Annual Meeting of the Friends of GPC will be held at 2pm on Saturday, 23 June, at the Drwm, The National Library of Wales, Aberystwyth. The speakers are the society's president, Myrddin ap Dafydd, Professor Geraint H. Jenkins, Dr Elin Jones, and the Dictionary's Managing Editor, Andrew Hawke.
We look forward to welcoming Friends old and new to an entertaining afternoon, followed by the opportunity to socialise over a cup of tea.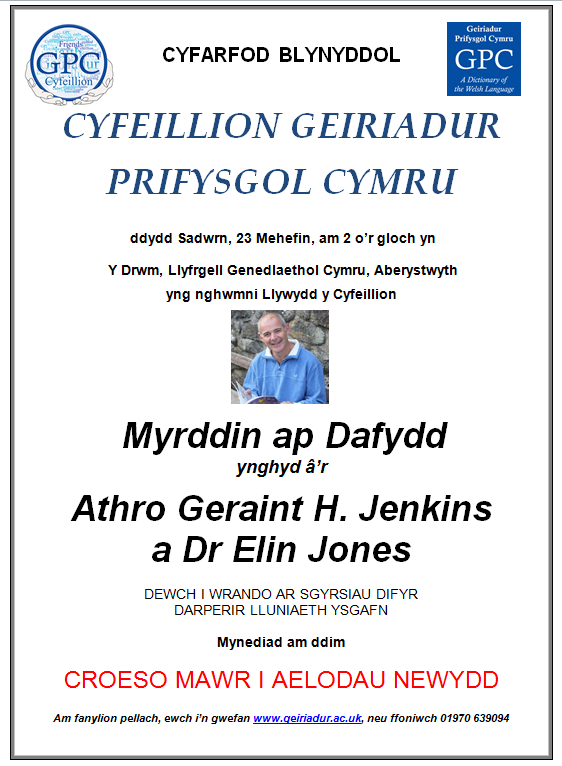 14 May 2018
GPC+
We have just launched a new service called GPC+. This is a pilot scheme to create a valuable new resource that will include quotations that have not yet been published in the Dictionary.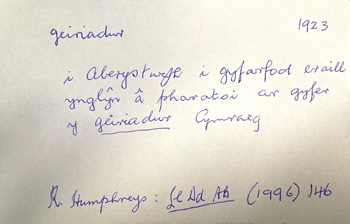 It will also include further examples of words which are in the Dictionary. Only about 20% of the examples collected are included in the Dictionary, so it will be possible to discover much more information.
But before the resource can be searched it must be created! Most of the examples were originally collected by hundreds of volunteer readers, and now we are looking for volunteers to transcribe the slips so that they are available to all.
You can read more about the project and learn how you can get involved here.
Note: The transcription website is available in Welsh only as we believe that that some of the material would be too challenging for those who cannot read Welsh.